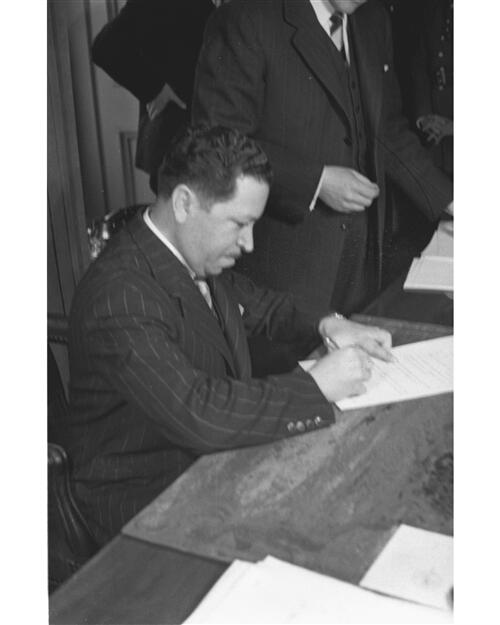 Identity area
Authorized form of name
Arriagada Saldías, Enrique
Standardized form(s) of name according to other rules
Identifiers for corporate bodies
Description area
History
Chileno. Profesor de Estado en Castellano titulado en la Universidad de Chile. Político, Ministro de Justicia y de Tierras y Colonización del presidente Juan Antonio Ríos. Hijo de Vicente Arriagada y Mercedes Saldías. Casado con Gullermina Kehl, con quien tuvo un hijo. Realizó sus estudio secundarios en el Instituto Nacional y los superiores en el Instituto Pedagógico y en la Escuela de Derecho. Juró como abogado en 1922 y obtuvo su título de profesor de Estado de Castellano en 1924.
Functions, occupations and activities
Miembro del Partido Socialista desde 1938, se unió a Marmaduque Grove cuando este se escindió del partido y creó el Partido Socialista Auténtico.
Fue Ministro de Tierras y Colonización entre 1942-1943 y Ministro de Justicia entre 1945 y 1946.
Presidente y luego vicepresidente de la comisión de reforma del Código Penal.
Participó en congresos y centros filosóficos en Chile, Buenos Aires, Río de Janeiro y Montevideo.
Mandates/sources of authority
Internal structures/genealogy
Access points area
Occupations
Control area
Authority record identifier
CL UDEC ALDCO /RAP 000099
Rules and/or conventions used
Dates of creation, revision and deletion
Creado el 23 de mayo de 2021.