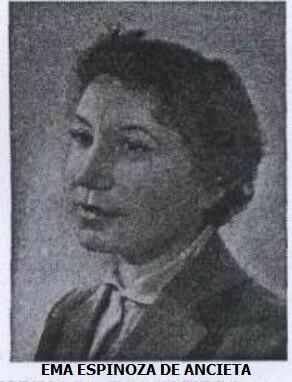 Identity area
Standardized form(s) of name according to other rules
Other form(s) of name
Espinoza de Ancieta, E.
Espinoza, Ema
Espinoza, E.
Identifiers for corporate bodies
Description area
History
Realizó sus estudios de humanidades en el Concepción College, y en ese mismo establecimiento se especializó como secretaria-taquígrafa-dactilógrafa. Fue parte de los inicios del Plan Chillán, cuando se iniciaron los estudios de organización de los diferentes proyectos que integraron el plan.
Places
Concepción (Chile)
Chillán (Chile)
Functions, occupations and activities
Trabajó como secretaria en varias firmas comerciales de la capital penquista, tales como Herman Hnos., y Gastellu Ltda., Weir Scott S. A. C., y Grace y Cía., S. A., y más tarde en la Casa García y el National School en Santiago.
Ingresó al Plan Chillán el 8 de septiembre de 1953.
Fue secretaria de don José Suárez Fanjul, en aquel entonces Coordinador del Plan.
Se desempeñó como secretaria del Proyecto 30-A, de Capacitación Agrícola.
Mandates/sources of authority
Internal structures/genealogy
Control area
Authority record identifier
CL UDEC ALDCO /RAP 000209
Rules and/or conventions used
Dates of creation, revision and deletion
Creado el 23 de mayo de 2022.
Sources
Fotografía: Documentos del Plan Chillán.
Maintenance notes
Descripción realizada por Sofía Muñoz en el mes de Mayo de 2022.