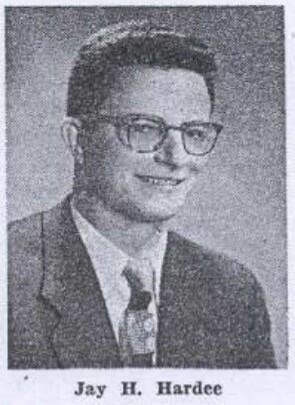 Identity area
Standardized form(s) of name according to other rules
Other form(s) of name
Hardee, J.
H., Jay
Jay Hardee
Identifiers for corporate bodies
Description area
History
Nació en Carolina del Norte (Estados Unidos). Egresó de la universidad de ese estado con el título de Bachelor of Science. Durante la segunda guerra mundial permaneció tres años en Europa, durante los cuales recorrió todo el viejo continente, como infante de la armada norteamericana. En 1945, próximo ya al final del conflicto, fue herido en Bélgica y enviado de regreso a su país.
Luego de algunos años llegó a Chillán con el fin de realizar en la zona algunos trabajos de su especialidad en una época en que el "Plan Chillán" era todavía un proyecto.
Places
Carolina del norte (estados unidos)
Bélgica
Paraguay
Chillán (Chile)
Functions, occupations and activities
Durante tres años trabajó en Paraguay en la dirección de un fundo dedicado al cultivo forestal, y más tarde fue contratado por el Instituto de Asuntos Interamericanos.
Ingresó al Plan de Desarrollo Agrícola donde asesoró la Unidad Forestal, principalmente en las labores de viveros, extensión y fondo común de bosques.
Colaboró como asesor en el Proyecto Nº 12 en Extensión Forestal e Introducción de Nuevas Especies Forestales.
Mandates/sources of authority
Internal structures/genealogy
Control area
Authority record identifier
CL UDEC ALDCO /RAP 000184
Rules and/or conventions used
Dates of creation, revision and deletion
Creado el 19 de mayo de 2022.
Sources
Catálogo Colectivo de Autoridades Bibliográficas (CCAB)
Fotografía: Documento del Plan Chillán.
Maintenance notes
Descripción realizada por Sofia Muñoz en el mes de mayo de 2022.